Intradco and National Air Cargo arrange first horse charter from Dubai World Central
Intradco Cargo Services and operator National Air Cargo have successfully managed a high-profile project to fly 47 horses from Dubai World Central - Al Maktoum International Airport (DWC) as part of the world-famous Cavalia equestrian tour.
The charter on a Boeing 747-428(BCF) aircraft was the inaugural flight to make use of the newly-constructed horse loading ramp at DWC - a unique facility designed to allow for the increased import and export of live animal cargo.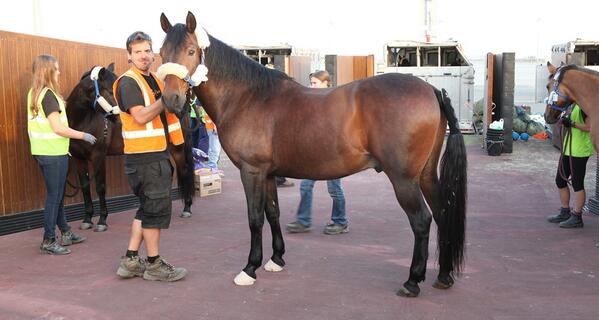 Livestock and bloodstock transport specialists Intradco - recently acquired by global aircraft charter firm Chapman Freeborn - coordinated the project to fly the horses to Ostend in Belgium following their recent performances in Dubai and Abu Dhabi.
Cavalia's productions are a highlight in the live entertainment industry with their one-of-a-kind homage to the age-old bond between human and horse - and the safe transportation and wellbeing of the animals is considered a priority at all times.
With the help of National Air Cargo and Equitrans Logistics, the aircraft was configured to accommodate the horse stalls as well as a team of grooms to further ensure the welfare of the horses during the flight.
Charlie McMullen, Business Development Manager for Intradco, said:
"Animal transportation is a highly specialised business and charters of this nature always require meticulous planning and close coordination with the client and airline.
"We're delighted to have assisted Cavalia with this project and together with National and Equitrans we're pleased to be the first company to make use of the new horse loading ramp at Dubai World Central. This world-class facility will benefit us greatly when managing future horse movements in the Middle East."
Alan White, Vice President – Ground Operations of National Air Cargo, said:
"National is experienced in handling all types of sensitive cargo and we always take the utmost care in handling such a precious cargo as this horse charter and our specialised staff and infrastructure at Dubai World Central ensured this was handled smoothly and efficiently. We were delighted with the support from Intradco and Equitrans to ensure Cavalia received the best service possible."
About Intradco Cargo Services